Throughout 2023, Warner Bros. Studios will commemorate a century of iconic stories that have shaped us as movie fans in countless ways. As part of the yearlong centennial celebration, Warner Bros. Discovery Global Themed Entertainment, together with Fever, will bring to life score tracks from some of the studio's most celebrated films and television series performed on the very same grounds where many of the productions were made.
This series of 100 concerts in 100 cities worldwide kicked off on April 6th at the Steven J. Ross Theater located on the historic Warner Bros. Studios Lot in Burbank.  Candlelight: 100 Years of Warner Bros. will feature a range of music from the studio's past and present, including songs from Friends, A Star Is Born, Willy Wonka, Purple Rain, The Wizard Of Oz, and many more.
As one of the most iconic and celebrated studios in Hollywood history, the Warner Bros. Studios Lot has seen countless talented faces and groundbreaking films and television series throughout its storied past. From classic films like Casablanca to modern-day hits like Friends, the studio has been a hub of creativity and innovation, a testament that at Warner Bros., every story is worth telling and celebrating no matter how big or small. 
But the Lot isn't just a place where Hollywood stars are made — it's also where dreams become a reality and a place where people could aspire to be whatever they want to be.  And now, for one magical evening, you can be a part of that history. Candlelight: 100 Years of Warner Bros. is your chance to experience the magic of Hollywood up close and personal, in a one-of-a-kind musical journey.
Classical renditions of some of history's most beloved films and TV shows will make this concert an unforgettable celebration of Warner Bros.' storyteller legacy.
However, the magic doesn't stop there. The sea of candles surrounding the theater will add an extra layer of enchantment to the evening, creating a truly immersive experience you'll never forget. 
So, what are you waiting for? Don't miss your chance to step into the spotlight and experience the magic of Hollywood at the Warner Bros. 100th Anniversary candlelit concert. Get your tickets today and be part of history.
The Wizard of Oz – Somewhere Over the Rainbow (1939)
Casablanca – As Time Goes By (1942)
Singin' in the Rain – Singin' in the Rain (1952)
Scooby-Doo – Theme Song (1969)
Willy Wonka and the Chocolate Factory – Pure Imagination (1971)
The Exorcist – Theme Song (Tubular Bells) (1973)
Purple Rain – Purple Rain (1984)
Batman – Main Theme (1989)
Friends – I'll Be There for You (1995)
The Lord of the Rings: The Fellowship of the Ring – Suite (2001)
Harry Potter and the Goblet of Fire – Hogwarts' Anthem (2005)
Inception – Time (2010)
Wonder Woman Suite (2017)
A Star is Born – Shallow (2018)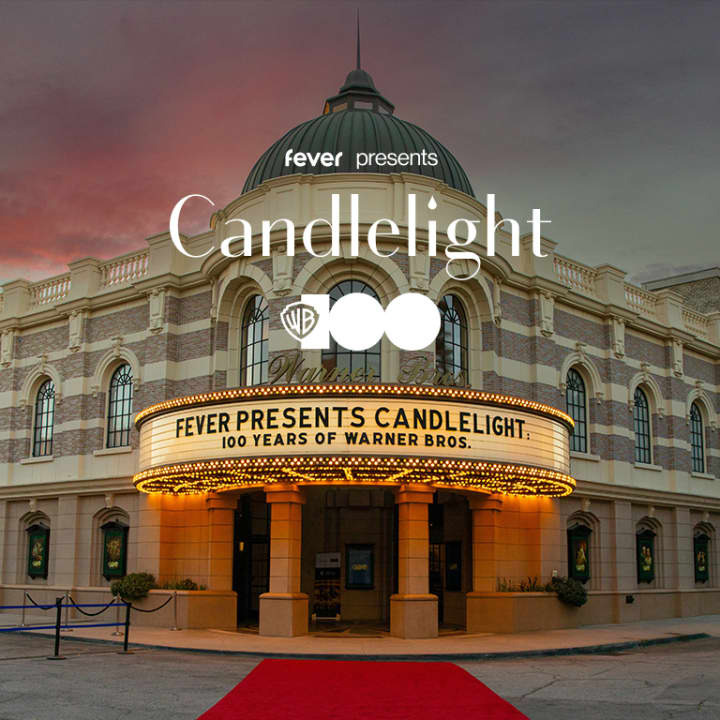 Candlelight: 100 Years of Warner Bros.
December 14, 2023 18:30
From $40.00
---