Here are some sweet rewards for doing your civic duty this year.
Whether you're voting by mail or in-person at one of these iconic venues, make sure you keep your "I Voted" sticker handy to reward yourself for your civic efforts. Beyond the roving food truck feeding hungry voters in long lines across L.A. on Election day, there'll be a few offers available at chains and local establishments. Here's just a handful of them to encourage you to wear your sticker with pride.
Long Beach Creamy is pairing democracy with delicious scoops. They recently created a flavor in honor of the late Ruth Bader Ginsburg, which is inspired the associate justice's favorite treat: frozen lime soufflé. There'll be 100 free scoops available at both the Long Beach and Bixby Knolls outposts on Election Day.
The Hollywood eatery is giving dine-in guests a complimentary salted chocolate chip cookie if the "I Voted" sticker is worn on Election Day.
In honor of 'DOUGHmocracy,' participating Krispy Kreme shops will be giving out free Original Glazed Doughnut in honor of Election Day and they'll have their own "I Voted" stickers available to anyone that wants to inspire others to do the same.
Anyone who mentions the word "voted" and tags the company in Instagram stories on November 3, will be sent a free coupon to get a free scoop. They are also donating 50% of online profits from October 21 to November 3 to Rock The Vote, an organization working to defend young people's right to vote by making participation in our democracy more accessible.
You can get these scrumptious red velvet churros for just $1 at Tacos Tu Madre on Election Day.
The newly-opened Marina del Rey restaurant is giving out free election-themed, mini cookies to customers wearing their "I Voted" stickers on Election Day.
This Echo Park shop will be offering specially-made $1 "DoNut Be Silent" vegan donuts when you wear or show your "I Voted" sticker on November 3.
The hip coffee chain is offering a free T-shirt or mug when you spend $25 from now through Election Day. You'll need to use the code "VOTER" at checkout to claim your gift.
The shop on Larchmont will be offering free fries with any Smashburger purchase when you show your "I Voted" sticker on Election Day.
The Arts District eatery will be giving out free coffee to anyone with an "I Voted" sticker until November 4. Might as well pick up a delicious doughnut or taco while you're there.
Randy's Inglewood location will be giving out the sweet reward of a free glazed doughnut to anyone that flashes their "I VOTED" sticker on Election Day. *Only while supplies last
Show your support for the Margarita Party and get a $5 Presidente margarita and a special "I Voted" sticker on November 3. You can also share a post on social media with #PresidenteforPrez "for a chance to win a prize fit for a Presidente" – which includes Margarita Party merch, free Chili's for a whole year, your own margarita machine and Chili's margarita drinkware.
To take the edge off, Koreatown's Line Hotel will be serving up $1 cocktails to anyone wearing their 'I Voted' sticker.
The Habit Burger Grill has partnered with Feed the Polls to send out a food truck to selected polling stations to keep both workers and voters fed. Voters will receive a free Charburger with cheese or a veggie burger option plus fries on November 3 between 11 a.m. and 1:30 p.m. at the following locations:
FOOD
Get a Free Habit Burger When You Vote Tomorrow
NOVEMBER 2, 2020 BY JULIET BENNETT RYLAH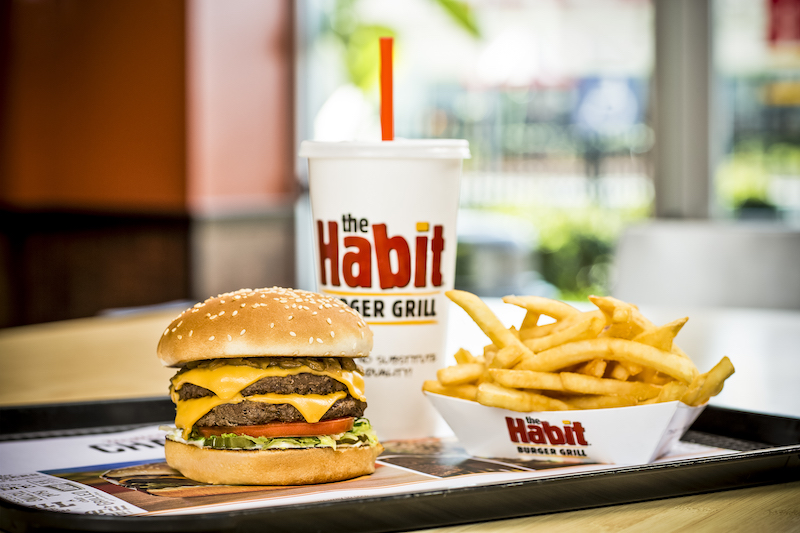 The Habit's catering trucks will be out on Election Day providing free burgers and fries to poll workers and voters at select polling locations. It might be a good incentive to time your civic duty with lunch.
The Habit Burger Grill has partnered with Feed the Polls on this event. Workers and voters can receive a free Charburger with cheese (lettuce, tomato, caramelized onions, pickles, and mayo on a toasted bun) or a veggie burger option plus fries on Nov. 3 between 11 a.m. and 1:30 p.m. at the following locations:
Agoura Hills/Calabasas Community Center 27040 Malibu Hills Rd, Calabasas CA 91301
E C Bilbrew Library 150 E El Segundo Blvd, Los Angeles CA 90061
Carver Elementary School 1425 E 120th St, Los Angeles CA 90059
Lucy Avalos Community Center 11832 Atlantic Ave, Lynwood CA 90262
Citizens of Zion Missionary Church 12930 S Lime Ave, Los Angeles CA 90059
Rosecrans Recreation Center 840 W 149th St, Gardena CA 90247
[Featured Image: Krispy Kreme]
---